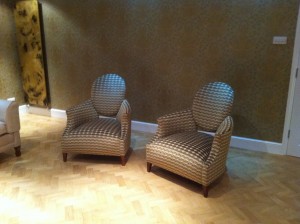 We provide a high quality bespoke upholstery service in traditional , and contemporary designs. We Use a simple forumla that has enabled us to grow. We use the best materials to provide the best products. We are justifiably proud of our reputation as one of the leading manufacturers of bedding and upholstery in the UK.
Demand for our services; has been increasing over the years in a wide range of setings including hotels, homes of sporting and media celebrities, hospitals, TV studios, theatres and care homes.
Our services are commissioned by bars , architects, upholsteres, and furniture makers, home furnishers, designers , healthclubs, media companies and many more.
Services provided:
Complete antique restoration, French polishing, wall paneling, furniture & frame construction, head board made to any size or design.
Foamtec Bespoke Furniture is available to Trade Customers, we work cohesively with interior designers, architects, property developers and the hospitality market. We offer competitive trade discounts and bespoke manufacturing services with a very accelerated turn around time.
Equally, we are very happy to supply Retail Customers, assisting in the design process to help you choose from the extensive range of fabrics and finishes available, not to mention size and dimension advice and guidance.
View some examples of our work here : Gallery