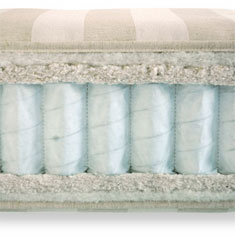 Here at foamtec we manufacture our mattresses all by hand using traditional and modern methods, from side stitching by hand on our luxury end hand nested pocket spring mattresses, using natural fillings such as horse hair, blended cotton, lambs wool, fillings, which in turn gives you a beautiful combination of luxury feel and comfort, finished in the finest Belgium damask.
On our open coil bonell range of spring mattresses they are available in medium to firm degrees of firmness, again using natural fillings such as wool, and cotton and all covered in herring bone traditional 100% cotton ticking, with a hand tufted finish.
Foamtec visco elastic memory foam and Latex mattresses and pillows bring a new concept to mattress technology. This high density visco foam is incredibly elastic and will actually mold to the body shape thus preventing bed sores to pressure sensitive areas. The mattresses and pillows are made of visco elastic memory foam (originally designed by NASA) and now made in the UK. This is then bonded to top quality duplex foam and covered in stretch jersey damask in keeping with the memory foams suppleness. By using this combination the heat and pressure sensitive foam reacts to your body's weight and temperature allowing it to mould exactly to your body shape. This means that whether you sleep on your back side or stomach your weight will be evenly distributed thus giving perfect anatomical support as guaranteed by foamtec. The overall results can effectively stop spine sag and discomfort. The mattresses and pillows are non – allergenic being dust mite free, so in the morning you will wake up fully rested , relaxed and ready to start the day. Also available – mattress overlays made of 100% visco elastic foam, cut and shaped to your specifications and covered in stretch jersey damask.
View some examples of our work here : Gallery